The Water Pillow - Original (Fiber)
The Water Pillow's Fiberfill pillow is our Original pillow and offers you a soft layer of resilient fiber providing exceptional comfort for the head. 
The fiber floats on a thin layer of water for responsive support. The Water Pillow is clinically proven to reduce neck pain and improve quality of sleep.
Super soft fiber floating on Waterbase Technology™.
Elite Quality: Ultra combed luxurious fiber, 100% cotton case, corded edges.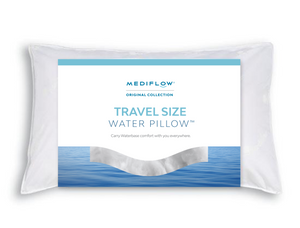 Fiber Travel Size Water Pillow
A smaller version of the Original Fiber Water Pillow by Mediflow.